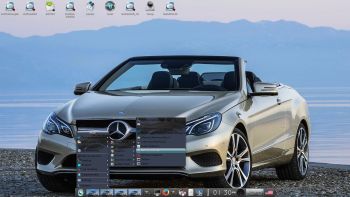 NEWS 180217 ABOUT ExLight
I've made a new version of ExLight, which also have the Budgie Desktop 10.4 pre-installed. You can now log in to Enlightenment 0.22.1 on all kind of computers, (which you couldn't before).  Budgie is focused on simplicity and elegance. Designed with the modern user in mind.  See a screenshot of ExLight running the Budgie Desktop.

New sources 180217
This new version of ExLight is based on Debian unstable/experimental. I.e. cutting edge software is used. Build 180217 is a total rebuild of ExLight. The ISO file size has decreased from 1560 MB to 986 MB, which means that ExLight now can run even faster from RAM.

MORE NEWS 180217 ABOUT ExLight
I've made a new extra version of ExLight today based on Debian unstable/experimental. The "old" version from 171112 is based on Ubuntu 17.10 (alias Artful Aardvark) and Debian Buster/Stretch. Furthermore version 171112 uses Enlightenment 0.20 installed from Ubuntu's repositories. Build 180217 of ExLight uses Enlightenment 0.22.1 (latest). Enlightenment 0.22.1 was released 171122. This version of ExLight (180217) has a much nicer look since I've installed the R-NightBling-II_E22 theme.
I have kept the old version (from 171112) of ExLight on SourceForge.net server since that version of ExLight can be considered more stable being based (mostly) on Ubuntu 17.10.
KERNEL
ExLight Build 180217 uses kernel 4.15.2-exlight, corresponding Kernel.org's kernel 4.15.2.
What's new in Linux kernel 4.15?
Installed packages
Study all installed packages in ExLight Build 180217.
VirtualBox and VMware
ExLight Build 180217 runs very well in VirtualBox and VMware. Maybe you'll have to use boot alternative 4 (failsafe).
SCREENSHOTS
1. The Enlightenment 0.22.1 Desktop
2. The Login Screen – LightDM. Choose between Enlightenment and Budgie Desktop
3. The Enlightenment Desktop – logged in as root
4. The Enlightenment Desktop – logged in as user
5. The Budgie Desktop – logged in as root
6. Using Wicd in Enlightenment
7. Running in VirtualBox
8. Running in VMware
9. Refracta Installer running in Expert mode
10. Refracta Snapshot running
11. Showing how to change locales
This version of ExLight has been replaced by Build 190202…